December 2011
Some of the most vulnerable young people in Bolivia are benefiting from sexual and reproductive health services and education thanks to an innovative outreach programme, which receives funding from Irish Aid.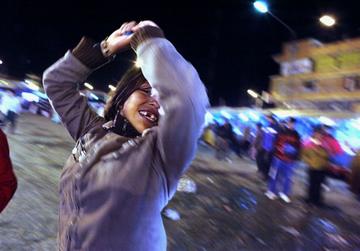 In March 2009, the Irish Family Planning Association (IFPA), assisted by CIES (Centro de Investigación, Educación y Servicios, Bolivia) and the International Planned Parenthood Federation (IPPF), organised a study visit to Bolivia to learn about the sexual and reproductive health and rights and needs of vulnerable young people and the innovative service delivery mechanisms developed by CIES to meet these needs. Three members of the All Party Interest Group on Sexual and Reproductive Health & Rights and Development participated.
One of the recommendations of the delegation was to support CIES to secure funding to continue its work with most at risk young people. In November 2010, Irish Aid announced multiannual funding to CIES to deliver sexual and reproductive health services to marginalised young people.
During the first year of this project, CIES was able to provide more than 13,500 educational services related to sexual and reproductive health. These young people, including young mothers, previously had nowhere else to turn for services or information. In 2011, through the project entitled, Investing In Bolivia's Most Vulnerable Youth, Bolivia's Centro de Investigación, Educación and Servicios (CIES) provided 13,500 sexual and reproductive health services to 6,400 street youth in five of Bolivia's nine capitals: Cochabamba, Oruro, Tarija, Sucre y Santa Cruz.
The project works with youth in especially difficult circumstances aged 10-24 years with an emphasis on empowerment to exercise their rights. Vulnerability to risks often coincides with the level of poverty in which one lives. In Bolivia, 25% of adolescents aged 10 to 19 years live in extreme poverty.
350 adolescents and young people living and working on the streets were able to voluntarily take an HIV test; 15 people were found to be living with the virus. CIES also provided more than 5,180 counselling services on issues of sexual and reproductive health, including finding young victims of child trafficking and sex trading.
CIES Sexual Health – Reproductive Health implements a rights-based and gender-based approach in order to determine clients' specific needs, including the prevention of gender based violence, as well as working towards youth empowerment by involving young men and women at all stages of the project.
CIES works with young people living and working on the street. These young people are highly vulnerable to: sexual violence, accidents, fights and cut wounds (often deliberately by blood brotherhood pacts) that cause bleeding and infection, high exposure to STIs, including HIV, unwanted pregnancies and unsafe abortion. These young people suffer severe stigma—their mere presence in public places is often perceived as a threat. They are abused, subjected to discrimination, police raids, extortion and harassment.
The project also provided sexual and reproductive health care to young mothers. In the first half of 2011, 32 young women received family planning.
The project is changing the young people's relationships with themselves; strengthening their self-esteem, increasing their desire to live and their capacity to manage risk. They in turn share this knowledge with their peers and help them access sexual and reproductive health services.