News – October 2011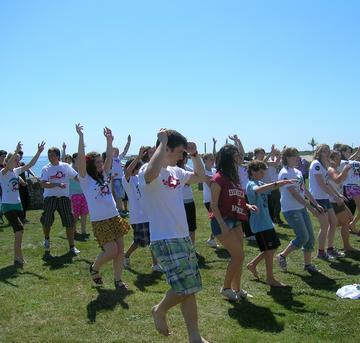 dance4life Ireland, the IFPA's HIV & Sexual Health Education programme for young people, is busy delivering its dynamic programme to 20 schools and community groups around the country this Autumn.
Aimed at young people aged between 13 and 24, dance4life is an international initiative which aims to inspire, mobilise and unite young people in the battle against HIV/AIDS. The programme uses dance, music, film and workshops to encourage young people engage in the issue of HIV/AIDS and their own sexual health.
Schools participating in the programme this Autumn include Portmarnock Community School and Trinity Comprehensive in Dublin, Castletroy College in Limerick, CBS Thurles in Co. Tipperary and Breifne College in Cavan.
In November young people from the Travelling community in Offaly, North Tipperary and Galway will do the programme in Balinasloe.
Students from Portmarnock Community School plan to pass on the knowledge and skills they learned in the dance4life programme to their peers during a school trip to Lesotho next February.Student from Enniscorty CBS have also undertaken to introduce the programme to a school in Sierra Leone, which they are twinned with through the Work Wise project.
Students from Enniscorthy CBS and Breifne College Cavan have undertaken a HIV Knowledge survey with schools and family as part of an awareness raising activity.
This summer the programme was delivered to young people from Limerick Youth Theatre along with some visiting young people from Finland during the summer holidays.
The dance4life programme is based around the dance4life drill, a dance that is taught to students in each of the participating countries. Young people also participate in the skills4life workshops which gives them the skills and knowledge to protect themselves against HIV and other sexually transmitted infections.
The third element involves young people to take part in an action – treasure hunts, talent shows, fancy dress, sack races, cake sales, painting murals – to raise awareness about HIV and sexual health. The programme is delivered by the IFPA and is offered free of charge.
Pictured: Young people from Limerick Youth Theatre with visitors from Finland.