News – August 2011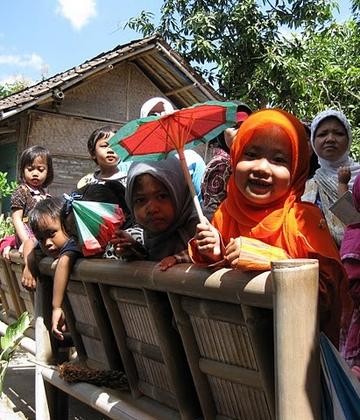 Family planning and reproductive health was the focus of a parliamentary study tour to Indonesia in August. Chairperson of the Irish All-Party Interest Group on Development and Sexual & Reproductive Health and Rights Deputy Olivia Mitchell joined five other European parliamentarians from Austria, Belgium, Portugal, Cyprus and the UK on the tour which showcased Indonesia's successful family planning policy.
In Jakarta, study tour participants held meetings with Indonesian Members of Parliament, government officials, United Nations Population Fund (UNFPA) and other donor agencies. In Yogyakarta participants visited community and public health centres where parliamentarians learned about the delivery of reproductive health services and supplies as well as nutrition services, which are delivered to the local population without charge.
Parliamentarians also visited the temporary shelters for the people affected by the eruption of the Merapi volcano and met with NGOs which provide services and counselling to young people and women that have experienced domestic violence.
Speaking after the study tour Deputy Mitchell said: "The Republic of Indonesia is the world's fourth most populous country, and has the world's largest population of Muslims. Indonesia family planning policy has been highly successful thanks to two key factors – political leadership, which saw family planning introduced as a state policy in the 1970s, and successful cooperation with religious leaders.
"Shortcomings in the country's reproductive health provision that need to be addressed include the development of sexual health services for young people and greater focus on empowering girls and young women. It is a cause for concern that that most family planning and reproductive health services are geared towards married couples and do not include young unmarried people. And, as investing in girls' education is a critical factor in advancing gender equality and women's empowerment, the fact that girls spend on average only six years in school must be addressed as a priority in government policy."
The study tour was organised by the European Parliamentary Forum on Population and Development.and was hosted by Indonesian Forum of Parliamentarians on Population and Development and UNFPA Indonesia, with support from Countdown 2015 Europe and UNFPA's Geneva Office.
Key Findings of Study Group*:
Indonesia's family planning programme has been recognised internationally for its success. It was established in the 1970s under the President Suharto, who, despite other shortcomings, recognised that the escape from poverty and hunger is made more difficult by rapid population growth. Since the introduction of state family planning which sought to improve access to family planning services, including contraception, the number of births per woman of childbearing age has fallen from 5.6 births per woman in 1967 to 2.08 in 2010.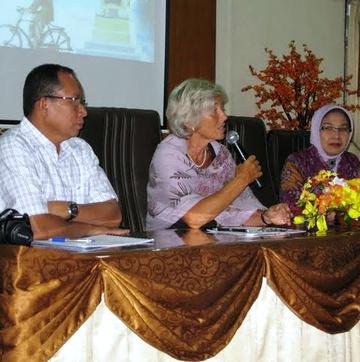 However challenges still remain:
High maternal mortality rates sees 240 deaths per 100,000 live births. It is estimated that at least a third of these deaths could be prevented. Most family planning and reproductive health services are geared towards married couples and do not include young unmarried people.
Although female genital mutilation was banned in 2006 the practice still continues in hospitals and health centres. No reliable data on FGM exists, but experts say religious support for the practice is stronger than ever, particularly in rural communities.
Although 98.9 % of children attend schools, the average years that girls spend at schools is 6 years, without receiving higher education.
Infant nutrition under 6 months is not regulated by the state, with food corporations allowed to advertising milk substitutes for infants.
There is a shortfall in midwives in Indonesia (an estimated 26 per 100 000 people), which means that the quality of antenatal, perinatal and postnatal care varies widely.
*Information gathered at meetings with UNFPA, other donor agencies, Parliament of Indonesia, Members of IFPPD, Commission IX on Gender Equality and MDG Working Committee
Photos:
Welcoming committee at Posyandu Family Planning and Health Integrated Community Post in Jogyakarta City
Deputy Olivia Mitchell meeting with Muslim Leaders in Jogyakarta