A smear test only takes a few minutes and could save your life.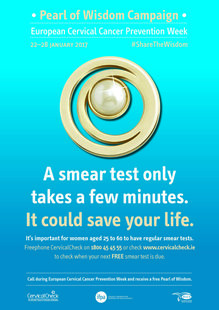 Once again, from 22nd-28th January 2017, the IFPA will partner with Cervical Check – The National Cervical Screening Programme – to highlight the vital importance of regular smear tests for cervical cancer prevention. The test is free and can be accessed at over 4,500 clinics nationwide, including the IFPA City Centre and Tallaght clinics.
Book your test or check when your next test is due by calling Freephone CervicalCheck on 1800 45 45 55 or visiting www.cervicalcheck.ie.
The Pearl of Wisdom pin is the European symbol of cervical cancer prevention. During the Pearl of Wisdom campaign, 22,000 pearl pins will be distributed to organisations, businesses and community groups country-wide. Watch out for the free pins in your locality, or order one by calling Freephone 1800 45 45 55.
During campaign week, share your selfie with your pearl using the hashtag #ShareTheWisdom.
For more information, or to find out how you can support the campaign, contact Áine Travers at aine.travers@ifpa.ie or (01) 607 4456.