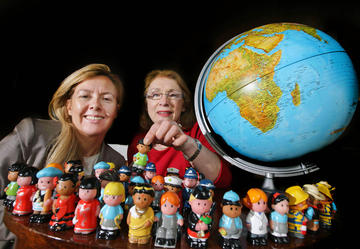 Governments that are serious about eradicating poverty must be serious about investment in reproductive health, according to Minister for Trade and Development Jan O'Sullivan at the launch of a UNFPA Report on the challenges of living in a world of 7 billion in Dublin in October.
On October 31 the world population was projected to reach 7 billion. How we respond to the challenge of living in a world of 7 billion will determine whether we have a healthy, sustainable and prosperous future or one that is marked by inequalities, environmental decline and economic setbacks, according to the annual State of World Population 2011 report, published today by UNFPA, the United Nations Population Fund.
The report, entitled People and Possibilities in a World of 7 Billion, provides a snapshot of how nine countries are facing diverse demographic challenges, ranging from ageing populations to high fertility rates, and from urbanization to the emergence of new generations of young people.
Speaking at the launch Minister O'Sullivan said if we want to address the challenges posed by a rapidly expanding world population, we have to address the vicious cycle of extreme poverty, food insecurity, inequality, high death rates and high birth rates in the poorest countries.
"The challenge is to break that vicious cycle. And this is eminently possible. We know what it takes. Investing in health, particularly sexual and reproductive health, and in education for women and girls is fundamental. In country after country, women and girls who have completed at least primary school education choose to have fewer children.
"Governments need to facilitate that choice by ensuring access to the information and means that women need plan the size, timing and spacing of their families. As the 2011 report so clearly states, governments that are serious about eradicating poverty should also be serious about providing the services, supplies, and information that women, men and young people need to exercise their reproductive rights.
"Providing women with access to reproductive health care is not just an end in itself. It can have a transformative effect on women's vulnerability to poverty, hunger and economic and social discrimination. The choice to have smaller families allows for greater investment in each child's health care, nutrition and education, improved productivity and better long-term prospects — for women, their families and their societies."
The report describes the obstacles individuals in these nine countries (China, Egypt, Ethiopia, Finland, India, Mexico, Mozambique, Nigeria, and the former Yugoslav Republic of Macedonia) confront and overcome in trying to build better lives for themselves, their families and communities. It also illustrates how when women and girls have rights and opportunities, their families, communities and nations prosper.
The 7 billion milestone is a "challenge, an opportunity and a call to action for investment in equality", according to Jacqueline Mahon, Senior Policy Advisor on Global Health and Health Systems UNFPA, who presented the report findings at the launch in Dublin.
"We all count. We are all part of the 7 billion. Our record population size can be viewed in many ways as a success for humanity. But not everyone has benefited from this achievement or the higher quality of life that this implies. Great disparities exist among and within countries and these gaps are widening between rich and poor almost everywhere. Disparities in rights and opportunities also exist between women and men, girls and boys.
"The report makes a strong case for sound planning and investment in people. By empowering people to make choices that are not only good for themselves and their families, but also for our global good, we can chart a path to a sustainable and productive future that promotes equality rather than exacerbates inequalities. In the end it is the choices and opportunities enjoyed by individuals that determine population dynamics."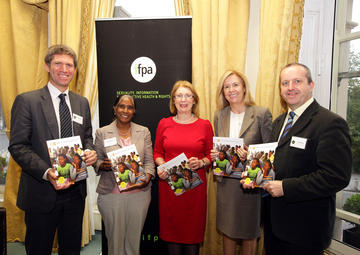 Responding to the report, Dr Nata Duvvury, Co-Director of the Global Women's Studies Programme, NUI, Galway noted that it is estimated that the number of women aged 15 to 19 will reach 300 million, with the fastest growth expected in sub-Saharan Africa, posing serious challenges to improved sexual and reproductive health of women.
"To address their needs effectively we need to promote their sexual and reproductive rights– ensuring women's control over their bodies and enhancing their role in decision making would have significant impact on female work participation, expenditure on health of children, and formation of human capital of the next generation through increased expenditure on education– all elements that contribute to improvements in household income.
"It is equally important that young men are targeted particularly in sex and sexuality education programmes to begin conceiving of a masculinity that values shared work, communication and joint decision making and begin to break the vicious cycle of gender inequality, poor SRH and poverty."
Enabling women, men and young people to have the power to make their own reproductive decisions remains the best blueprint for our future, as outlined in the Cairo International Conference on Population, according to Kevin Baneham, IFPA Chairperson.
"There are 215 million women of childbearing age in developing countries who lack access to voluntary family planning. There are millions of adolescent girls and boys in the developing world who have too little access to sexuality education and information about how to prevent pregnancies or protect themselves from HIV. In pockets of the world where women's status is low, infant and child survival are also low. We must tear down economic, legal and social barriers, to put women and men and boys and girls on an equal footing in all spheres of life."
At the launch Ms Mahon paid a special tribute to the Irish Government and Irish Aid for their support to UNFPA: "In these tough economic times we know that maintaining previous levels of financial support for UNFPA is difficult, but we know that Ireland has a proud record of supporting those in need and those less fortunate, even when times are hard."
Key Findings:
Population Trends:
Today, 893 million people are 60 or older. By the middle of this century that number will nearly triple, to reach 2.4 billion. Of the world's 7 billion, 1.8 billion are young people between the ages of 10 and 24.
About one in two people now live in an urban area. In about 35 years, two out of three will.
A global population of 9.3 billion people is predicted in 2050, and more than 10 billion by the end of this century.
Achievements:
There is much to celebrate in world population trends over the last 60 years, especially the average life expectancy, which jumped from about 48 years in the early 1950s to about 68 in the first decade of the new century.
Infant deaths have plunged from about 133 in 1,000 births in the 1950s to 46 per 1,000 in the period from 2005 to 2010. Immunisation campaigns have reduced the prevalence of childhood diseases worldwide.
Recommendations:
Unleashing the power of women and girls can accelerate progress on all fronts. When women and girls have rights and opportunities, their families, communities and nations prosper.
Ensuring that every child is a wanted and every childbirth is safe can lead to stronger families and sustainable communities.
Young people hold the key to the future. Investing in the health and education of our youth will yield enormous returns in economic growth and development for generations to come.
More:
Pictures:
Jacqueline Mahon, Senior Policy Advisor on Global Health and Health Systems at UNFPA and Jan O'Sullivan, Minister for Trade and Development, pictured at the launch of 'The State of World Population 2011' Report. Pic Marc O'Sullivan.
IFPA Chairperson Kevin Baneham, Dr Nata Duvvury, Co-Director of NUIG Global Women Studies Programme, Jan O'Sullivan, Minister for Trade and Development, Jacqueline Mahon, Senior Policy Advisor on Global Health and Health Systems at UNFPA (United Nations Population Fund) and Niall Behan IFPA CEO, pictured at the launch of 'The State of World Population 2011' Report. Pic Marc O'Sullivan.