16 November 2010
The IFPA's Training and Education department has secured accreditation from FETAC, the statutory awarding body for further education and training in Ireland.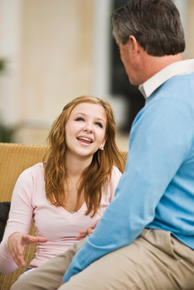 This means that participants on our popular Speakeasy course will now be awarded FETAC level 3 to 4 on the national framework of qualifications.
Speakeasy is an eight-week course designed to provide parents with the information, skills and confidence needed to talk to their children about relationships and sexuality.
Since June 2009 the Speakeasy programme was delivered to 10 community groups and we now have 76 Speakeasy graduates. After completing the course 91% of parents reported they felt able to talk to their children openly about sex.
One Speakeasy participant reported: "After doing the course, as a man I felt a lot more confident and comfortable to sit down and talk to my 2 teenage sons about sex education. I would like to talk to my nephews and nieces too; their parents wouldn't be comfortable and wouldn't talk to them"
This October the department ran a training course on relationships, sexuality and HIV/STI prevention for student welfare officers around the country. A similar course was also delivered to HSE staff, teachers, youth worker and students.
Feedback on the programme has been very positive and the next training course is scheduled for March 2011. See here for more information.