Act Now on 2015 – June 2010
This Summer the IFPA joins 61 other Irish NGOS to call on the Irish Government to deliver its aid commitments.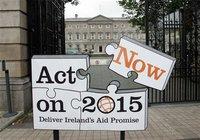 The Irish Government has made a commitment to the world's poorest and most vulnerable people to spend 0.7% of our national income on overseas aid by 2015. That's just 70 cent in every €100 by 2015. Even in these difficult economic times, we must honour this commitment to people living in poverty.
The launch of Act Now on 2015 comes ahead of the European Council meeting on the Millennium Development Goals (MDGs), which will take place in Brussels on 17-18 June. At this meeting, European heads of state will decide a common EU position for this September's MDG summit at the UN.
The campaign is calling on the government to:
Announce binding annual targets to achieve 0.7% by 2015 at the latest;
Enact legislation to guarantee Ireland's aid commitment.
See more and take action on www.actnow2015.ie