Event – July 6 2009
LIMERICK: Today 17 asylum seekers and refugees graduated from a 10-week empowerment course focusing on sexual and reproductive health and rights.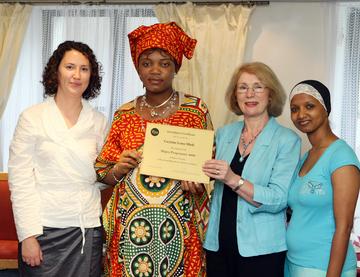 The Labour Party's Deputy Jan O'Sullivan presided over the graduation ceremony in Pery's Hotel, Limerick this afternoon. The training course was undertaken by the Irish Family Planning Association (IFPA) with input from AkiDwA, the national network of African and migrant women living in Ireland.
Improving the sexual and reproductive health of asylum seekers and refugees is the aim of the programme. In particular the course seeks to give asylum seekers and refugees the tools to discuss issues such as STIs, HIV/AIDS, sexual health, FGM, domestic violence, safe-sex negotiation and women's health services.
The programme is entitled Majira, which means 'family planning' in Swahili, but it can also be translated as 'seasons'. A similar course was also run in Dublin.
Speaking at the event Deputy Jan O'Sullivan said sexual and reproductive health was "an important issue for all women" and encouraged the participants to "pass on the new knowledge gained during the course to other women".
Noting that a handbook for health service providers on how to work with female asylum seekers and refugees is due to be produced as part of the programme, she said the course was a "two-way learning process".
It is hoped that course participants will pass on the knowledge gained in this course to their communities and will benefit from an improved understanding available health services, explains Lynn Harnedy, Majira Programme Officer with the IFPA.
Female refugees and women seeking asylum face unique challenges to achieving sexual and reproductive health, she says.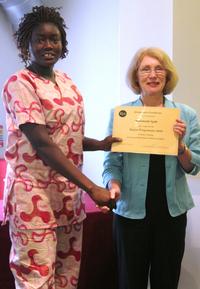 "Barriers include lack of information about available services, negative attitudes from front-line health workers and communication difficulties. In addition, they can face issues such as strict gender roles within families, female genital mutilation and higher risk of domestic violence.
"Finally, vulnerability to sexual violence particularly within reception centre makes them more at risk of STIs and crisis pregnancies. Travel restrictions due to immigration status can result in illegal abortion."
The Majira project aims to address some of these barriers by providing information, a safe space for discussion and developing strategies and skills to overcome these obstacles, she explains.
"As women are empowered to express their needs, access services and assert their rights in relation to sexual and reproductive health, they not only improve their own health and wellbeing but are also empowered in other areas of their life," says Lynn Harnedy.
Issues highlighted in the training sessions and the health checks were debated at a forum in Dublin on Friday. This debate will feed into the production of a handbook for health service providers on how to work sensitively with female asylum seekers and refugees in the area of sexual and reproductive health.
Two participants from the Limerick Majira programme (Halima Uba Usman and Falister Ndua) contributed to this forum.
Key Statistics:
There are 1,998 women and girls of reproductive age (13-45) living in direct-provision accommodation in Ireland. Approximately 2,500 women living in Ireland have undergone female genital mutilation. There are 420,000 foreign nationals living in Ireland, representing 10 per cent of the whole population.
About the Majira Programme:
The Majira Programme is funded by the EU through the European Refugee Fund, administered by the Office of the Minister for Integration and managed by Pobal.
In total 31 women living throughout Ireland took part in the training course. Participants were offered free medical check ups and health screening with the IFPA as part of the project.
Building on the experience of this training component, the Majira initiative will also engage in a stakeholder consultative process to produce a tool kit for healthcare providers and policy makers on how to work sensitively with female refugees and asylum seekers in the area of sexual and reproductive health.
Research has shown that women belonging to ethnic minorities experience significant barriers to accessing medical care and organisations working with migrant communities have identified sexual and reproductive health as a particular area of concern.
A study carried out by the IFPA in indicated that countries with the highest number of asylum applicants to Ireland often have the lowest levels of modern family planning.
* Pictured at the top is Lynn Harnedy from the IFPA, Deputy Jan O'Suillivan, Majira graduate Alwiye Xuseyn and from AkiDwA (photo taken by Keith Wiseman). Above is Rosemond Apah receiving her certificate from Deputy Jan O'Sullivan