On 14th December 2016, the Irish Family Planning Association (IFPA) welcomed Amal Ahmed Mohamed to Ireland. Ms Mohamed is Executive Director of the Somaliland Family Health Association (SOFHA), the only family planning centre in Somaliland.
During her trip to Ireland, Amal met with civil society organisations and parliamentarians to discuss women's health in Somaliland, including female genital mutilation (FGM) and women's access to reproductive healthcare.
In Somaliland, Amal explained, FGM is extremely common, with a prevalence rate of 98%. SOFHA employs a number of strategies to encourage the rejection of the practice. In SOFHA's experience, there is support among community and religious leaders for abandonment of the practice of infibulation, and recognition of its links to health problems such as fistula. However, other types of FGM, such as piercing, are more difficult to stop.
SOFHA is a leader in the care of women who have experienced FGM in Somaliland. For example, Amal explained that the organisation is currently working to change common practice in Somaliland on the de-infibulation procedure. Currently, she said, most de-infibulation procedures takes place on the woman's wedding day or during childbirth. SOFHA want to change this so that women can access the procedure months beforehand, to allow for healing and reduce the risk of infection as well as reducing pain for women.
Amal advised that making the IFPA FGM treatment service accessible to women from the diaspora Somaliland community in Ireland requires an awareness of the cultural context. She shared insights into SOFHA's work at community level to improve access to reproductive health, such as using the concept of 'birth spacing' rather than 'contraception' as an entry point to provide family planning options.
We look forward to working with and learning from the work of SOFHA in the future as a fellow IPPF member association. To learn more about their work, visit their website.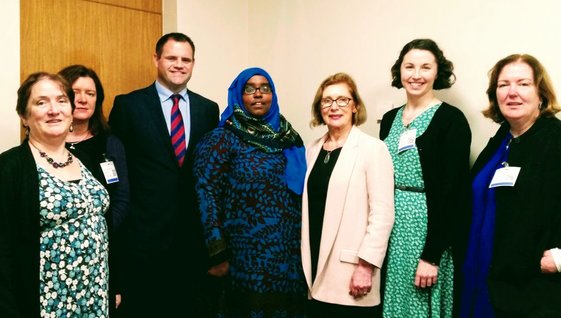 Amal pictured at a meeting of the All-Party Oireachtas Interest Group on Sexual and Reproductive Rights and Development, of which the IFPA is secretariat.
Left to right: Deirdre Murray, Akidwa; Maeve Taylor, IFPA; Neale Richmond, Senator; Amal Ahmed Mohamed, SOFHA; Jan O'Sullivan, TD; Sarah Maloney, IFPA; Siobhán McGee, ActionAid Ireland