Adolescent pregnancy traps girls in a lifetime of poverty, exclusion and powerlessness and must be addressed. That's according to the 2013 State of World Population Report by the United Nations Population Fund (UNFPA), published on 30th October 2013.
The report highlights the serious impacts of adolescent pregnancy on girls' education, health, and long-term employment opportunities, and explores what can be done to reduce adolescent pregnancy and protect the rights and well-being of girls.
Launching the report in Dublin, the Tánaiste and Minister for Foreign Affairs and Trade, Eamon Gilmore TD, said that empowering women and girls was a key priority for Ireland's aid progamme, Irish Aid.
"No society can end poverty and hunger and drive its own economic and social development if it does not take determined action to end gender inequality and empower women and girls.
"Irish Aid is making a real difference to the lives of millions of people by providing access to education and basic healthcare services on the ground", said the Tánaiste.
Also presenting the report's findings, Dr. Mona Kaidbey, Deputy Director of UNFPA Technical Division, said that adolescent pregnancy occurs in the context of a complex set of factors that include poverty, low-value placed on girls' education, acceptance of child marriage. Ultimately, this results in negative impacts on a girl's life.
"Every day, 20,000 girls below the age of 18 years give birth in developing countries. Pregnancy undermines a girl's ability to exercise her rights to education, health, and autonomy. For nearly 200 adolescent girls every day, early pregnancy results in the ultimate rights violation: untimely death," said Dr. Kaidbey.
Figures in the report show that while adolescent pregnancy occurs in both developing and developed countries, the majority of developed countries, including Ireland, experienced a decrease in adolescent pregnancy rates between 1980 and 2008.
The latest HSE figures show that the number of births to teenagers in the Republic of Ireland has declined from 3,087 in 2001 to 1,639 in 2012, representing a decrease of 47%.
According to Dr. Kaidbey: "Reducing high rates of adolescent pregnancy requires multidimensional strategies that support girls to make decisions about their lives. This includes investing strategically in girls' education; ending sexual coercion and violence; engaging boys and men; ensuring the right to sexual and reproductive health services and information; and adapting approaches grounded in human rights."
Also speaking at the launch, Irish Family Planning Association (IFPA) Board Member, Cliona Doyle, highlighted the need for sexual and reproductive health and rights to be at the forefront of the post-2015 development framework. She welcomed the commitment in Irish Aid 2013's policy paper One World One Future to implement the Programme of Action of the International Conference on Population and Development.
"This requires that women have the means to make responsible and informed reproductive choices," said Cliona Doyle.
Read the UNFPA report Motherhood in Childhood: Facing the Challenge of Adolescent Pregnancy here.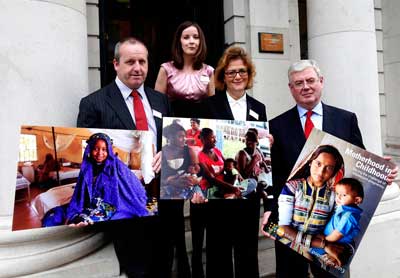 About the UNFPA
The United Nations Population Fund (UNFPA) is an international development agency that promotes the right of every woman, man and child to enjoy a life of health and equal opportunity. The UNFPA supports countries in using population data for policies and programmes to reduce poverty and to ensure that every pregnancy is wanted, every birth is safe, every young person is free of HIV/AIDS, and every girls and woman is treated with dignity and respect. Further information is available at www.unfpa.org.