Abortion services that are high quality and focused on women's needs must be part of mainstream healthcare in Ireland.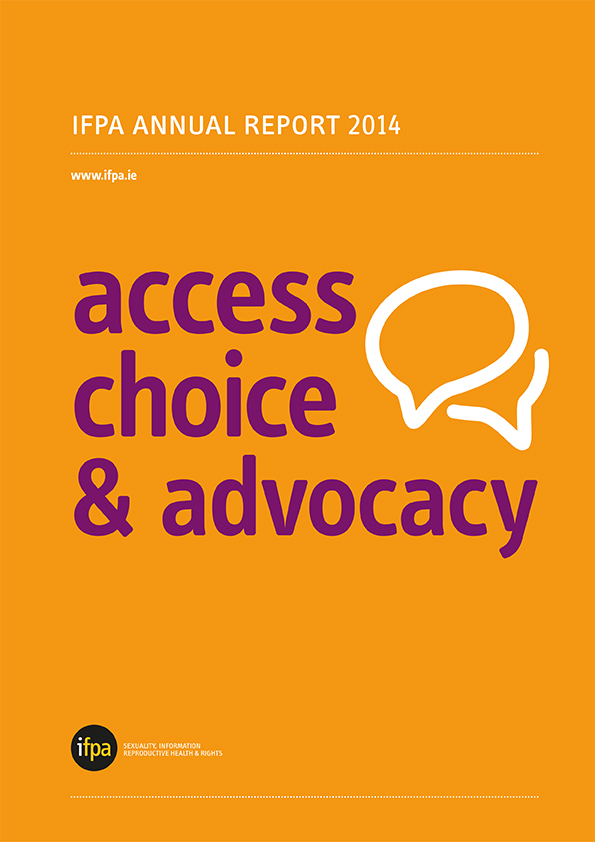 That's according to Ireland's leading sexual health provider, the Irish Family Planning Association (IFPA), which released its Annual Report 2014 (right) on 28th September, the Global Day of Action for Access to Safe and Legal Abortion.
IFPA Chief Executive, Niall Behan, said: "Last year the IFPA provided information and support to over 3,500 women, girls and couples with an unplanned pregnancy. Many of our clients' experiences turned into a crisis because they were unable to access an abortion within the Irish healthcare system. We know that at least 3,735 women travelled from Ireland to the UK in 2014 for abortion services. Other women sought medication online, while some women had no option but to continue with an unwanted pregnancy."
"At a time when a referendum to repeal the Eighth Amendment of the Constitution is likely, we need to start thinking about what kind of reform should take place. The IFPA knows from its services that what women need is access to abortion services in Ireland that are dedicated, high quality, and based on international best practice standards. Whatever reform takes place, it must ensure women's health and wellbeing", added Mr. Behan.
The report also notes an increase of 38% in the number of pregnancy counselling clients aged over 44 in 2014. According to IFPA Counselling Director, Evelyn Geraghty, "The number of women over 44 accessing our pregnancy counselling services has increased during the past two years. Further research is needed to better understand this trend."
The report also presents data from the IFPA's clinical service for female genital mutilation (FGM). Opened in 2014, the service is the first of its kind in Ireland to provide specialist care to women affected by FGM. Women have sought support in relation to ongoing pain, infection, sexual dysfunction, and difficulties conceiving, while some women have also accessed counselling. IFPA Medical Director, Dr Caitriona Henchion, said, "All of our clients have held negative attitudes towards FGM and would not approve of any other girl being subjected to the practice. This attitude among women from FGM-practicing communities is significant, and is essential for the full eradication of FGM."
The full report is available to download here.

Annual Report 2014 – Key Statistics
14,027 sexual and reproductive health consultations provided in the IFPA's two medical clinics in Dublin city centre and Tallaght, including 3,234 free cervical screenings, and 1,238 screenings for sexually transmitted infections (STIs).
Counselling services provided to 3,565 women and girls with an unplanned pregnancy, or a pregnancy which became a crisis. Information and advice provided to 2,093 callers to the IFPA National Pregnancy Helpline, and face to face counselling delivered to 1,300 clients at the IFPA's 11 centres across Ireland
A range of sexual health training delivered to 180 people; medical training delivered to 40 healthcare professionals.