Event – May 19 2009
Chadian obstetrician Grace Kodindo travelled to Ireland earlier this month as a guest of IFPA to attend a number of screenings of the documentary Dead Mums Don't Cry in Dublin.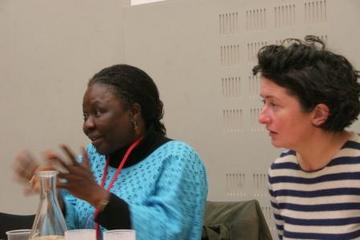 The BBC Panorama documentary charts Dr Kodindo's heroic efforts in Chad to lower the rate of maternal mortality. Currently women in Chad have a one in 11 chance of dying during pregnancy or in childbirth in their lifetime. This is in stark contrast to Ireland where woman have a risk of one in 48,000.
On her visit to Ireland Dr Kodindo met with members of Dochas, Trinity College's Women's Studies Department and members of the Joint Consortium on Gender Based Violence to discuss how to tackle maternal mortality in Chad and other developing countries.
Dr Kodindo also met with members of the All-party Group on Sexual and Reproductive Health. Following a screening of a portion of the documentary in Leinster House, parliamentary representatives discussed how the international community is faring in its goal to reduce the number of women dying during pregnancy and childbirth was discussed.
Dr Kodindo told the group how in September 2000 world leaders agreed to reduce maternal mortality by 75 per cent by 2015. Despite this it is still the least progressed of all the Millennium Development Goals.
Chairperson of the group Senator Fiona O'Malley pledged the committee's support to helping tackle the issue of maternal mortality.
Trained in Canada, Dr Kodindo has been working in Chad for 30 years. For many years she was one of only two obstetricians working in the entire country and she struggled to preserve women's lives in the face of profound poverty, a dearth of supplies, and minimal government support.
Now Dr Kodindo is a leading voice in the international battle to reduce maternal mortality. She has worked with the World Health Organisation, the United Nations Population Fund and UNICEF and is working for the RAISE initiative as senior medical and advocacy advisor.
Her trip to Ireland was part of a tour of nine European cities to create awareness of maternal mortality in developing countries. Just before arriving in Ireland Dr Kodindo was awarded the Millennium Development Goal (MDG) 3 Champion Torch in recognition of her efforts to secure comprehensive reproductive health care for women worldwide.

This event is one of a series of events to celebrate the IFPA's 40th Anniversary.