"Every young person will one day have life-changing decisions to make about their sexual and reproductive health. Comprehensive sexuality education (CSE) enables young people to make informed decisions about their sexuality and health. CSE builds life skills and increases responsible behaviours, and because it is based on human rights principles, it helps advance human rights, gender equality and the empowerment of young people."
– United Nations Population Fund (UNFPA)
Comprehensive Sexuality Education
Comprehensive sexuality education (CSE) is a life-long process of acquiring high quality and evidence-based information, skills and values about sexuality and relationships that begins during childhood and youth.
Whether sexually active or not, young people have the right to receive information to enable them to make informed and healthy choices in their sexual and reproductive lives.
CSE is not restricted to biology and reproduction but encompasses wider emotional and social development. It seeks to equip young people on topics such as relationships, sexuality, gender relations, safer sex practices, societal pressures to be sexually active, human rights, consent, respect and equality. CSE is therefore critical to the development of positive healthy attitudes and values towards sexuality and relationships.
Access to high quality CSE is essential to young people's sexual and reproductive health and rights, and by making sure that young people grow up happy and healthy, CSE also benefits communities and societies.
Despite this importance, CSE remains inadequate in many parts of the world and young people are missing out.
Ireland
While Relationships and Sexuality Education (RSE) is a compulsory part of the secondary school curriculum in Ireland, it is inconsistent across schools.
Although the Department of Education has RSE guidelines, they are not compulsory and there is no monitoring or evaluation system for RSE in place.
In addition, schools have significant freedom in defining the content of RSE based on ethos or moral considerations. Many schools also lack the resources to include RSE in an already overcrowded curriculum.
As a result, RSE is not equally implemented and young people receive inconsistent, and in many cases inaccurate and non-evidence based, information on relationships and sexuality.
For more, read about Ireland's score in the IPPF Barometer of Women's Access to Modern Contraceptive Choice in 16 EU Countries in our October and March 2015 newsletters.
The IFPA provides a range of training programmes on sexual health to young people, parents, healthcare and other service providers. More.

Know It, Own It
Know It, Own It is a new global campaign calling for better quality CSE to advance young people's human rights.
Launched on 18th May 2016 at the Women Deliver conference, the year-long campaign is led by the International Planned Parenthood Federation (IPPF), of which the IFPA is a member association.
Events are being held by IPPF member associations across the world to highlight the campaign and raise awareness of the need for better CSE among governments, policy-makers, young people and educators.
On the launch of Know It, Own It, IPPF Director General, Tewodros Melesse, said:
"Comprehensive sexuality education should be participatory, innovative and reach the most marginalised young people. The starting point, and the absolute minimum requirement, is that CSE must reach all young people – wherever they are. And we cannot achieve gender transformative change by focusing only on health outcomes. We must equip young people with information about health as well as the positive aspects of sex and sexuality."
The IFPA is inviting young people, partners and supporters to get involved in Know It, Own It. Visit the campaign page, try and share the campaign quiz and watch and share the campaign video (below). There is also a Know It, Own It social media wall, where all posts with the campaign hashtag #KnowItOwnIt will be published.
CSE Report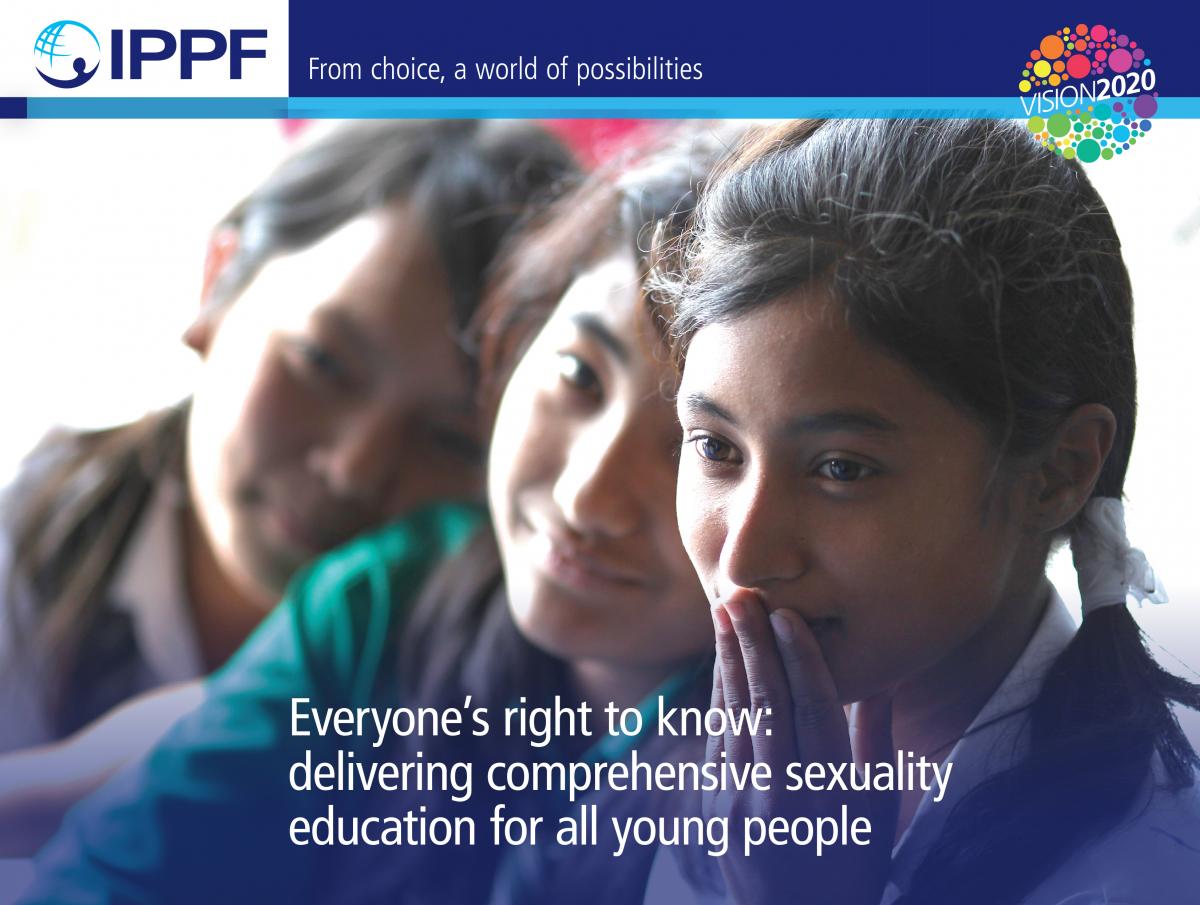 A new report has also been launched as part of the Know It, Own It campaign.
Everyone's right to know: delivering comprehensive sexuality education for all young people finds that sex education across the world is 'too little, too late and too biological' and calls for better quality CSE to meet the needs of the largest youth population the world has ever seen.
The report argues that millions of young people are missing out on CSE and that this needs to be urgently tackled as the number of young people continues to rise.
It finds that educators are often not adequately trained and that content tends to focus on negative health risks, rather than the positive aspects of sexuality and the recognition of young people's rights.
The report also highlights the need for CSE to be provided in non-formal settings outside the classroom, in order to reach the most vulnerable and marginalised young people.
The report states that high quality CSE is a necessity for governments, not a political choice, and has three calls:
It urges governments and policymakers to increase investment in, and improve policies on, CSE so that the world's 1.8 billion young people have universal access to high quality CSE in formal and informal settings.
It calls for those who deliver CSE inside and outside school settings to be sufficiently trained and supported to deliver CSE in a positive, non-judgmental, evidence-based and participatory way.
It calls for educators and civil society to work with parents and communities to build support for CSE and a culture that supports choice and respect for young people's sexual and reproductive health and rights.
---
For more information on the Know It, Own It campaign, contact Denise Ryan, IFPA Communications Officer, at denise@ifpa.ie or tel 01 6074456. Links to campaign material are below.
CSE Report
More Videos on CSE
Young people talk about common sexual myths
Uluk, a young volunteer with the Reproductive Health Alliance Kyrgyzstan, discusses the realities of sexuality education in Kyrgyzstan
Behavioural psychologist Eugenia discusses the situation for young people with disabilities in Romania and access to sexuality education
Maria tells a very personal story about infertility, society and traditions in Kyrgyzstan