Event – 16 May 2010
The IFPA's dynamic dance4life team took part in the highly successful Africa Day event on 16th May in Dublin's Iveagh garden organised by Irish Aid.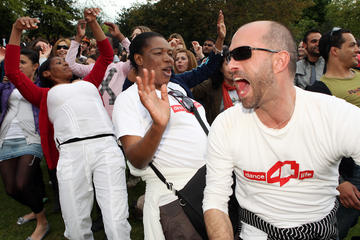 The dance4life team mobilised the audience with its hip hop dance drill and passed on messages about the battle against HIV and AIDS.
Ann Kennedy, coordinator of Irish dance4life programme: "dance4life participated in the Africa Day to showcase the message: Start dancing. Stop AIDS. You can take responsibility and still have fun". The team engaged entire families in dancing home this truth.
Africa Day organisers estimated that 12,000 people attended the event.
See more pictures in our photo gallery or on Facebook.
Africa Day