Release Date – April 21 2009
Concerns about clinic-based vaccination provision raised in the first European HPV vaccination review.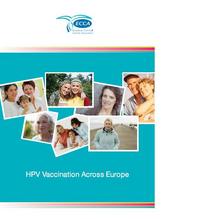 Clinic-based vaccination provision perpetuates health inequalities, according to the first European HPV vaccination review, which details the human papilloma virus (HPV) vaccination policies and practices in 40 European countries.
Despite the fact that school-based vaccination programmes provide the best protection against cervical cancer, the majority of European countries that have HPV vaccination are using clinic-based strategies, according to the report, entitled HPV Vaccination in Europe.
Clinic-based provision perpetuates health inequalities by missing the lower socioeconomic groups and minorities that are known to be at higher risk of cervical cancer, says the (European Cervical Cancer Association) ECCA, which produced the report.
The report reveals that while a number of European countries have plans to introduce school-based vaccination programmes, the UK is the only country that has fully implemented a national school-based vaccination programme. In Spain nine of the 19 autonomous regions deliver HPV vaccination through this mechanism.
Plans to implement a free school-based programme of HPV vaccination for young girls in Ireland were abandoned last November. The Minister for Health Mary Harney said the programme was being shelved because the country couldn't afford it.
Aside from Ireland, Iceland is the only other country which has cited the economic crisis as a reason for postponing a national vaccination programme, according to the report.
Out of 40 countries contributing data to the report, only nine (Denmark, Germany, Greece, Italy, Luxembourg, Portugal, Spain and the UK) offer HPV vaccination free of charge to at least one age-cohort of females. Two more countries (Belgium and France) offer HPV vaccination on a subsidised basis.
Responding to the report, Dr Catriona Henchion, Medical Director of the IFPA, called for a Government rethink on the scrapped HPV programme for young girls.
"School-based vaccination programmes are the only way to achieve the required level of coverage. In Ireland anyone wishing to vaccinate a child against cervical cancer has to have it done privately. This takes time, planning and money – between €390 and €600.
"This situation is inherently inequitable. Women from disadvantaged socio economic groups already suffer disproportionately from cervical cancer for a variety of reasons. However, the lack of a national HPV immunisation programme will further widen this preventable health disparity," she says.
While it appears uptake of the vaccine is relatively low there is no official recording mechanism so we will not know how many people have been vaccinated, she adds.
In its report to the Minister for Health, the Health Information and Quality Authority (HIQA) stated that a universal HPV vaccination of 12-year-old girls in Ireland would be cost-effective. The vaccination of this group alone would result in savings to the health system of €2.74 million per year over a 70 year period due to disease avoided (HIQA Report, Feb 2008).
"The government has opted to save small bit of money in the short term rather than making an investment that will not only save the lives of women in the future, but will also save the state money in the long term."
Not only is the decision to scrap the vaccination programme going against the advice of HIQA, it is out of step it is with guidelines from the European Cervical Cancer Association, she says.
"The IFPA advocates for a reinstatement of the full vaccination programme for girls age 12 including a full catch up programme for girls aged 13 to 15. The HPV vaccine is instrumental in the fight against cervical cancer because it is almost 100 per cent effective in preventing the two types of human papilloma viruses that cause 70 per cent of all cervical cancers."
Acknowledging the huge contribution that CervicalCkeck, the national screening programme for cervical cancer, will provide in the battle against cervical cancer, Dr Henchion expressed concern that Ireland "is missing a golden opportunity to further reduce the incidence and mortality of cervical cancer by not having a school-based vaccination programme".
The ECCA report states that school-based vaccination programmes are known to achieve high coverage of the target population. Where as on-demand provision through healthcare providers, even if supported by direct invitation and/or public education programmes, usually have a lower coverage rate and can miss lower socioeconomic groups and minorities.
This report also demonstrates a clear East-West divide where the more affluent western European countries have moved forward rapidly with HPV vaccination programmes while eastern European countries, where cervical cancer rates are up to six times higher than in the west of Europe, have yet to implement this effective prevention tool (the HPV vaccination is currently available only on a patient-pay basis).
While Ireland has cervical cancer rates similar to most western European countries, our lack of cervical cancer vaccination programme puts us firmly in line with eastern European countries, says Dr Henchion.
ENDS
See the full report here:
HPV Vaccination Across Europe.PDF 717.07 kB