Event – October 16 2009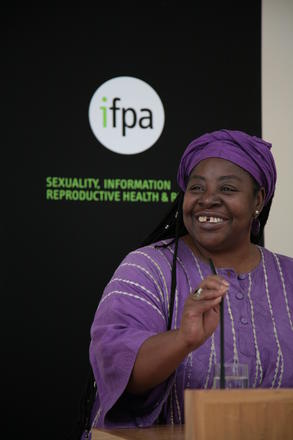 The Irish Family Planning Association and the Women's Studies Centre, UCD School of Social Justice hosted a conference entitled 'Building the Reproductive Justice Movement' on Friday October 16.
Loretta Ross, founding member of the US women's movement SisterSong, was the keynote speaker at a reproductive justice conference in Dublin.
Organised by the Irish Family Planning Association (IFPA) and UCD's Women's Studies Centre, the conference explored the issues of reproductive health and social justice. It is one of a number of events organised this year to mark the IFPA's 40 anniversary.
Welcoming delegates, CEO of IFPA Niall Behan said there has been remarkable progress on issues such as contraception, homosexuality, sex education and abortion information in Ireland in the last 40 years.
"None of this would have possible without many groups and individuals coming together to move these issues forward. But we still have considerable work to do. My hope for today is that our discussions will inspire us, to renew our commitment to full sexual reproductive health and rights for everyone."
Reproductive justice emerged in the US from the African American women's movement recognising that reproductive health campaigns needed to address issues such as the right to have a child as well as the right not to have a child, healthier communities, safer and environmentally sustainable lives and economic justice.
Loretta Ross's involvement in women's health issues is informed by her personal experience. She was one of the first black women to win a suit against A H Robins manufacturer of the Dalkon Shield that sterilised thousands of women. She was one of the first black women to direct a rape crisis centre in the 1970s.
Speaking at the event Ross stressed the importance of looking at reproductive health and rights in a social justice framework.
"This framework includes highlighting the right to have and not to have children and the right to parent our children."
Women need to campaign for all their human rights not just reproductive rights, she said. This includes the human right to have decent housing, the human right to access good education and the human right to have access to health care, she added.
Also speaking at the conference was Susan McKay, Director of the National Women's Council of Ireland, who said that Ireland has made considerable progress in terms of reproductive and health rights and the country was now ready to look at reproductive health in a social justice context.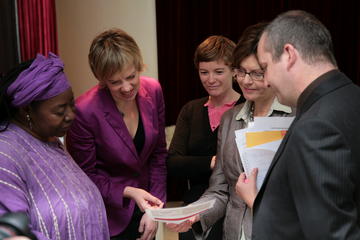 Other speakers at the event included Katherine O'Donnell from the Women's Studies Centre in UCD, Rosaleen McDonagh, member of the Travelling community and disability rights activist, Senator Ivana Bacik, Catherine Conlon, UCD Women's Studies Centre and Aiofe Dermody, feminist and member of Lash Back.