Event – May 6 2009
In the first of a series of events to celebrate the IFPA's 40th anniversary the IFPA hosted the launch of Ann Rossiter's new book Ireland's Hidden Diaspora – The 'abortion trail' and making of a London-Irish Underground 1980-2000 earlier this week.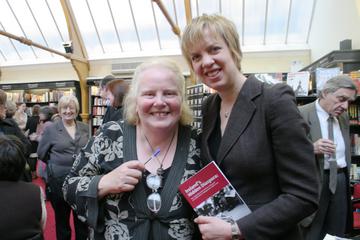 The book tells the story of London-Irish women who gave support to many of the women who crossed the Irish Sea to have an abortion in the UK. It is also a record of the work of the Women's Abortion Support Group (IWASG) in London.
The book is a testament to the tireless work undertaken by London-Irish women for twenty years to support Irish women before during and after their lonely journey 'across the water'. Ireland's Hidden Diaspora was launched in Waterstones on Dublin's Dawson Street by Senator Ivana Bacik, who also wrote the forward to the book. Speaking at the launch Senator Bacik spoke of her involvement with IWASG.
She stressed the importance of the group's work during the 1980s and 1990s when abortion was regularly in the headlines in Ireland as different cases were taken and referendum campaigns were fought. This made it particularly difficult for women to undertake the journey to England, she said.
She also gave an overview of the current law on abortion in Ireland making reference to the case being taken by three women resident in Ireland (A, B & C) against Ireland to the European Court of Human Rights. The book launch was attended by some 50 IFPA members, staff and friends from the past and present.

This event is one of a series of events to celebrate the IFPA's 40th Anniversary.