You are here
Abortion in Ireland
POLICY

The IFPA believes that abortion is an intimate aspect of private life, intricately linked with human rights values and principles that protect a woman's sexual and reproductive rights. These rights include the right to health, life, privacy, non-discrimination and to be free from cruel and degrading treatment. These values are unacceptably infringed upon by the criminalisation and inaccessibility of safe and legal abortion in Ireland. The IFPA supports the choices of women and girls with a crisis pregnancy in all circumstances.
SERVICES

The IFPA's nationwide counselling service provides a safe and confidential space for anyone to explore their feelings about their pregnancy and to discuss their options. Upon request, counsellors will provide information on abortion services in other countries. More. We also offer free post-abortion counselling and free post-abortion medical checkups. More
JUDGMENT OF EUROPEAN COURT OF HUMAN RIGHTS IN A, B & C v IRELAND: EXPERT GROUP REPORTS

Two years after the European Court of Human Rights ruled unanimously that Ireland's failure to give effect to the right to abortion where a woman's life is at risk  violates the European Convention on Human Rights, the Government's expert group issued its report proposing the actions the Government must take to fulfil its human rights obligations. More.
ABORTION IN IRELAND YOUTUBE VIDEO

Myths and facts presented out of context are all too common in the debate about abortion in Ireland. This video provides key information and statistics about abortion in Ireland to ensure that the debate is informed by facts not misinformation. Watch the YouTube video here.
PYSCHOLOGICAL, PHYSICAL AND FINANCIAL COSTS OF ABORTION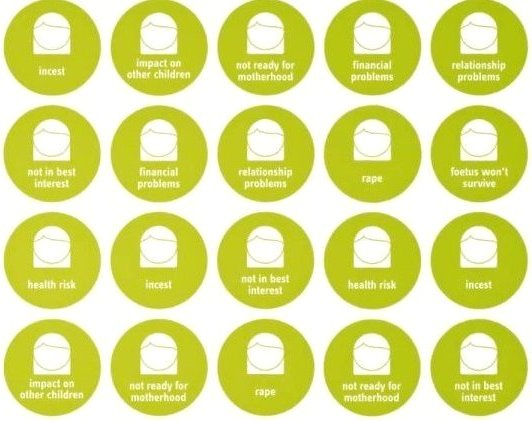 Women's reasons for choosing abortion, such as financial worries, concern about the well-being of other children, diagnosis of serious foetal abnormality, pre-existing health problems, including mental health problems, and relationship issues can all be extremely stressful. For these women, the need to travel abroad involves unnecessary hardship, and in many cases, significant psychological, physical and financial burdens. More
IRISH ABORTION LAW & POLICY

Abortion is legal in Ireland only when there is a real and substantial risk to the life of the pregnant woman, this includes the risk of suicide. It is not against the law for women to travel abroad to access abortion services or access information on safe and legal abortion services in other countries. More
STATISTICS

Between January 1980 and December 2013, at least 159,779 women travelled from the Republic of Ireland for safe abortion services abroad. This section contains the official statistics on the number of women and girls who gave Republic of Ireland addresses at abortion clinics in England and Wales and the Netherlands. More
ABORTION & PUBLIC OPINION

In the last decade there has been a significant shift in public attitudes towards abortion. Opinion polls and research consistently show increased support for access to abortion within Ireland. Click here for further information.
ABORTION & REPRODUCTIVE HUMAN RIGHTS

Access to safe and legal abortion services is a human rights issue. Irish abortion laws deny women and girls their most fundamental rights to live in dignity, to self determination and to exercise these rights without discrimination when access to abortion is criminalised in almost all circumstances. The Irish State has been consistently criticised by several international human rights bodies for its failure to legislate and regulate access to abortion services in violation of its obligations under several human rights treaties. More
RESOURCES

This section contains the ground-breaking publication of The Irish Journey where Irish women tell their stories of abortion. Further reading on abortion laws, policies and human rights standards in Ireland and internationally can also be found in this section. More