You are here
Dr Andrew Rynne
Former IFPA Chairperson remembers Ireland's first vasectomy in the 1970s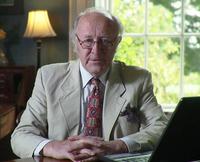 In the spring of 1974 the IFPA announced that it had performed four vasectomies in its Mountjoy Clinic. Obligatory gasps of shock and horror, not to mention the background din of crosier rattling, spread across Ireland. Was it not bad enough that this association was promoting sex outside of marriage and encouraging adultery? Now it was mutilating men as well!
The introduction of vasectomy into Ireland was truly revolutionary stuff. For liberals it was quite exquisite. It broke all the rules. For me it represented an excellent opportunity to extract myself from the morass in which I was then floundering. I had just returned from a five-year sojourn in Canada, where I had been seeing 70 patients a day, and was now sitting in a cold damp old Dispensary house in Clane twiddling my thumbs and seeing no patients. While in Canada I had learned how to do vasectomies. It was normal at that time in remote areas of Canada, for general practitioners to do surgery like tonsillectomies and vasectomies. So here I was back in Ireland where nobody could or would perform a vasectomy and the IFPA had to fly in a female surgeon from the UK to do the job.
In that first year I did 34 vasectomies under local anaesthetic at the IFPA's Synge Street clinic. By 1978 that figure had jumped to 414 vasectomies. We were the only show in town and we had men coming from all over Ireland. That same year my local parish priest called to my house. He seemed anxious to set me straight on the immorality of my behaviour. "Mutilation", he muttered. I politely showed him the door.
Then in 1979, came Mr Haughey's bombshell – the so-called Health, Family Planning Bill, which made non-medical contraceptives (condoms) a matter for a doctor's prescription and a dispensing pharmacist. It was the doctor's job to ensure that condoms were only being used for "bona fide" family planning purposes i.e. only married couples.
In 1982 I had the honour of being elected Chairperson of the IFPA, a position I held for the next three years. By now, the IFPA was employing the services of a full-time pharmacist and prescriptions for condoms were being written and signed by a doctor in blocks of one hundred. We were complying in principle with the Act.
In 1983 I wrote to the DPP and told him that I was breaking the law and selling condoms directly to my patients at weekends when the local pharmacist was closed. In due course the local sergeant arrived into my surgery and I handed over samples of condoms and receipts and anything else needed to secure a conviction. A more compliant suspect would be hard to imagine. Clearly embarrassed, he thanked me profusely and took his leave. Two months later I received a £500 fine at Naas District Court. Clearly the Health, Family Planning Act was working nicely.
During my time as its Chairperson, the IFPA was much preoccupied with the task of establishing a tubal ligation service for Irish women. No Irish maternity hospital offered this service to women, even to those for whom a further pregnancy might be life threatening. Most women at that time seeking tubal ligation went to England. The IFPA was looking for a place, like a nursing home, where we could tack on a small operating theatre to facilitate our needs. However, it was all in vain. No such place was available in Dublin.
It was this frustrating experience and more than anything else that prompted me to establish Clane General Hospital in 1985. Today Clane Hospital is a thriving surgical unit employing 160 people. Very few people realise today that its conception sprang from the IFPA.
Writing this has reminded me yet again, of just what an important part the IFPA has played in shaping my life. Younger people may not realise what a hostile place Ireland used to be for those of liberal bent. Thank you Irish Family Planning Association. You have given me much. I hope I have given something in return.