You are here
IFPA Counselling Locations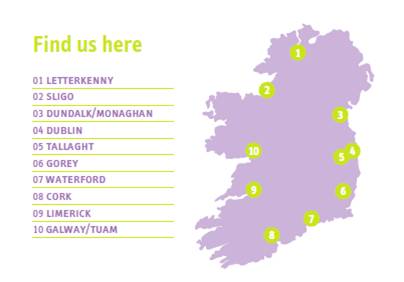 The IFPA is the only nationwide three-option counselling service. Our counsellors are here to give you accurate, honest and clear information and support.
Our counselling service is free and are located in Cork, Dublin City, Tallaght, Dundalk, Galway, Gorey, Letterkenny, Limerick, Tuam, Sligo, Monaghan and Waterford. Appointments are made through the IFPA's pregnancy counselling helpline, 1850 49 50 51. IFPA staff will be able to book a suitable appointment for you, give you directions and answer some basic questions.
 
Contact:
IFPA National Pregnancy Counselling Service 1850 49 50 51
 
The IFPA is a pro-choice organisation and our counsellors will support a woman's own choice in all cases.